Brunch at LoLo's Chicken & Waffles
The first time I heard of Lo-Lo's Chicken and Waffles was last year because of their Dallas Location. After opening their first and only location in Dallas,Tx as of yet, Lo-Lo's Chicken and Waffles quickly became all the rage in the city with people literally flocking to them to get a taste of what they were dishing out. I have to be honest, I initially brushed Lo-Lo's off as just another restaurant. Boy was I wrong.
About
Lo-Lo's was founded by Larry "Lo-Lo'" White, who has been curating recipes for more than a decade. Larry White has successfully created his own waffle mix, seasoned salt, maple syrup, hot sauce and more. Lo-Lo's has four locations in Arizona, one location in Las Vegas, Nevada, and One Location in Southlake, Texas.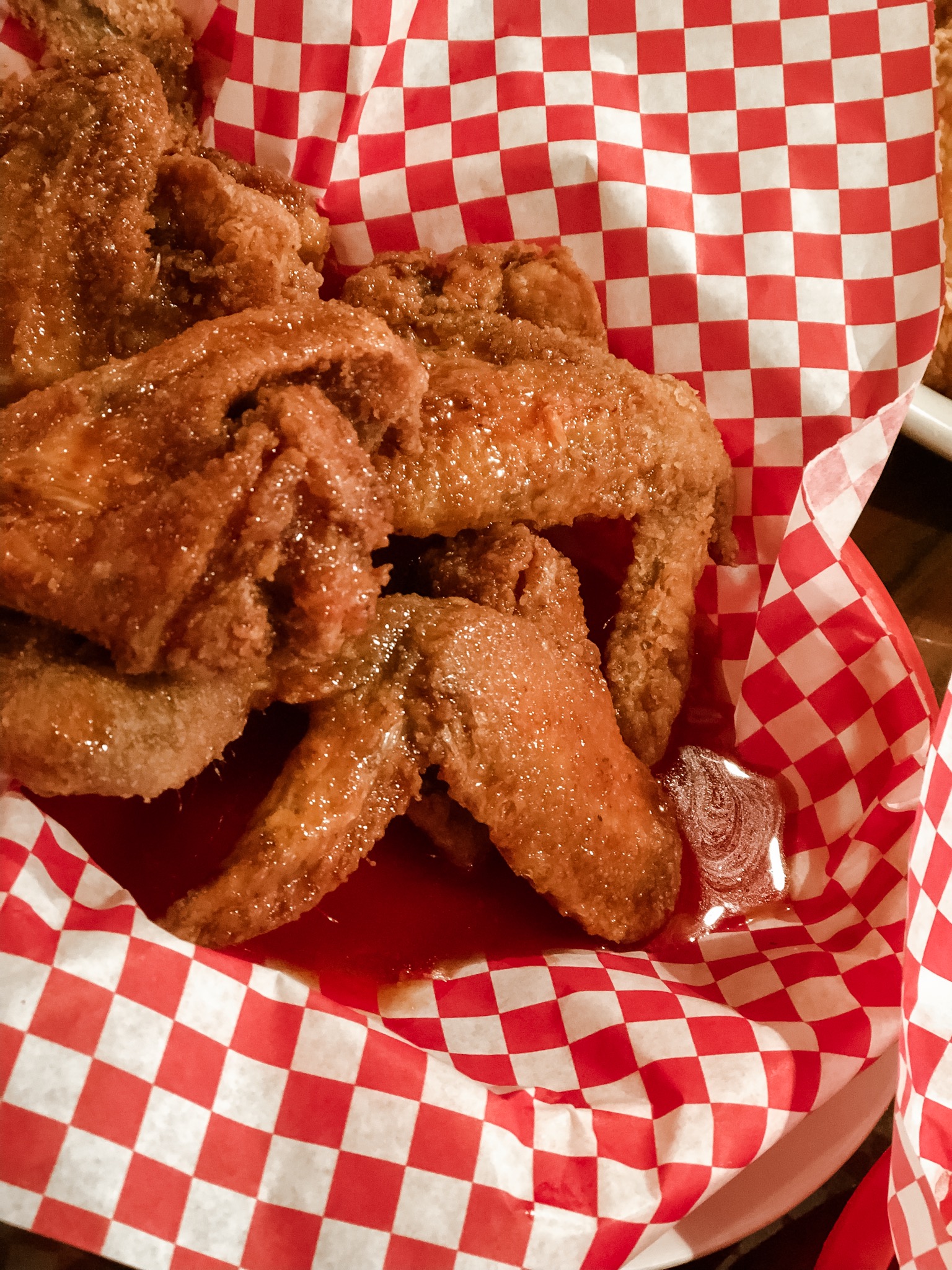 While trying to figure out what our family outing would be on a rainy day in Vegas, I kept going back and forth between Lo-Lo's, and two other spots. After looking over Lo-Lo's menu online I was sure that Lo-Lo's Chicken and Waffles was where we needed to be.
The Food
Banana Caramel Sweet & Stacked Hotcakes & Aunt Portia's Omelet
I pretty much walked into Lo-Lo's knowing exactly what I planned on ordering. We settled on water to drink and had our waitress give us a moment to briefly look over the menu. L.J ordered Banana Caramel Sweet & Hot Stacked Hotcakes which I of course tasted, these buttermilk hotcakes had banana slices cooked in and were topped with pecans, fresh sliced bananas, and a banana caramel sauce.They were so good! The hotcakes literally tasted like cake, and the caramel drizzle on top pretty much alleviated any need for syrup. The pecans on the hotcakes were even good and the hotcakes were HUGE. L.J also ordered Aunt Portia's Chicken Omelet which is four eggs folded and served with chicken, cheese, onions, and bell peppers. I didn't taste the omelet but L.J said it was good, and the portion size on that was big as well.
Puff's Chicken Tender Basket & Waffle
I ordered Puff's Chicken Tender Basket for Josiah, which came with three juicy boneless chicken tenders and a waffle. It was a lot of food but he enjoyed what he ate and we took the rest home. His favorite part of his meal was the waffle. I took and drizzled a little tiny teensy bit of syrup on his cut up waffle pieces and he was in heaven.
Stupid Fries & Chyna's Honey Hots
For myself I ordered Lo-Lo's Stupid Fries which are hot seasoned fries topped with tender fried white meat chicken, gravy and onions, green and red bell peppers covered with cheese. They were better than I expected them to be. I love loaded fries and I thought these were quite different being that they were topped with gravy but I absolutely loved them! The gravy was seasoned and had crazy flavor, the chicken bits weren't dry, and they didn't skimp on the toppings. I also ordered Chyna's Honey Hots which are six whole fried chicken wings covered with a honey & hot sauce combo. The wings weren't as spicy as I was hoping but they were still really good. They give you plenty of sauce so your wings aren't dry like a lot of others places, and they are cooked perfectly.
-Noteworthy-
Lo-Lo's gives really generous portions of food so we ended up taking over half of our food home for later.
Final Thoughts & Did Lo-Lo's break the bank?
The service at Lo-Lo's Chicken & Waffles was good, the waitstaff was extremely attentive and our wait for a table didn't exceed 15 minutes. The food was nothing short of amazing and the portion sizes were more than generous. In total we ended up spending about $70 including our tip, and honestly for the quality of food and the amount of food you receive I think it's worth every penny. I look forward to going back to Lo-Lo's and exploring more of the menu.
Lo-Lo's Chicken & Waffles is highly recommended!
As always I hope you really enjoyed this blog! The thanks so much for reading!
Check out the Latest is Love & Marriage