Lunch at VegeNation
I'm not a vegan, but I like to eat vegan at times to give my body a break from animal bi-products and I'll be honest, a lot of times I feel better when I do it. But I haven't committed to veganism and I'm not sure if I will. What I will do however is continue to bring you the best food spots I can find and some of those will in fact be vegan.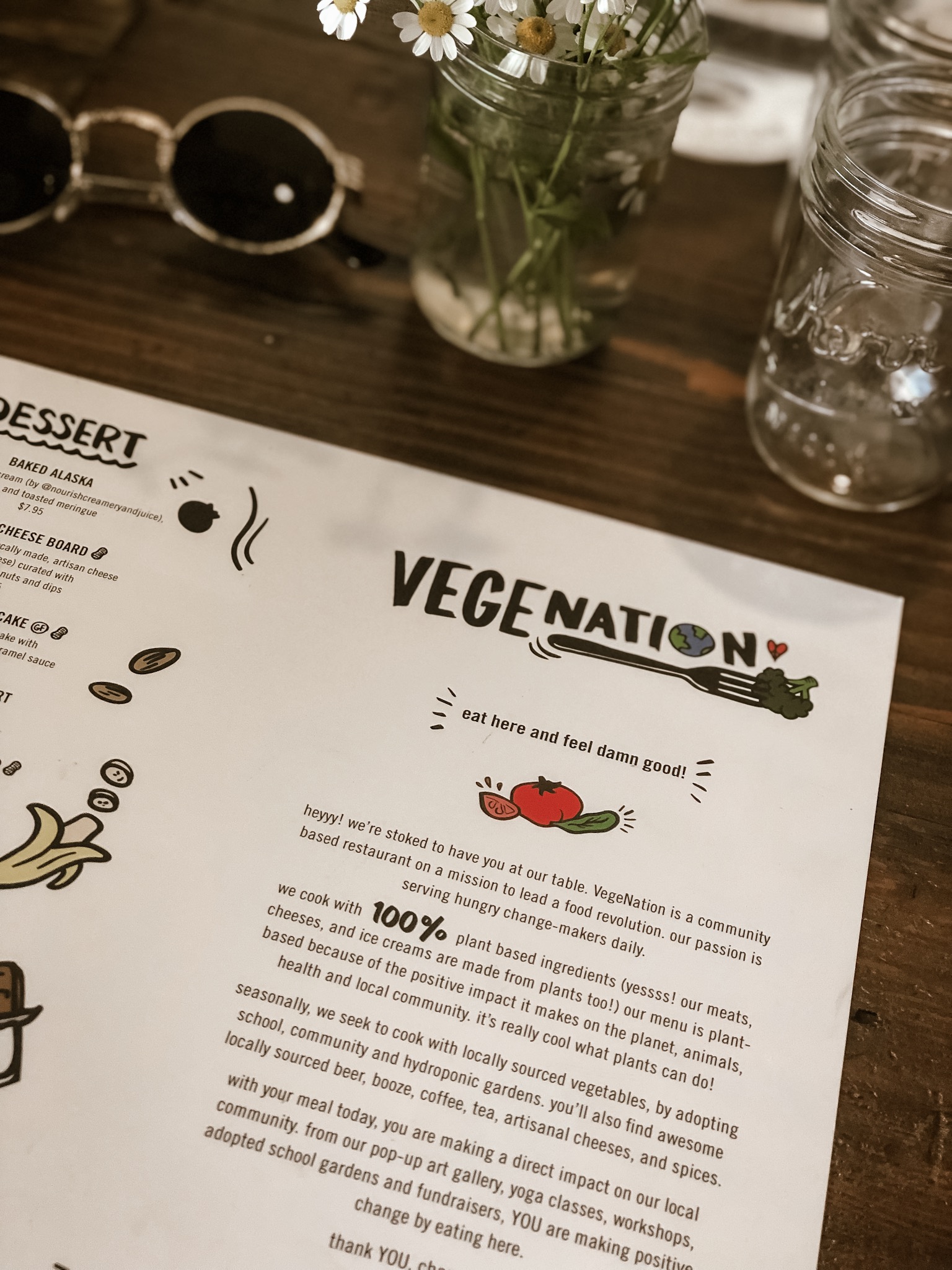 Since moving to Vegas, I've done a lot of research on places to eat and explore and have received a lot of targeted ads (thanks Google) on food spots, so I wasn't surprised at all when Vegenation popped up on my Instagram feed. After looking through their Instagram and menu I quickly added Vegenation to my never ending list of places to eat.
About Vegenation
Vegenation is community based restaurant that serves fresh street food with a 100% plant based menu. Vegenation works with small local businesses to source their beer, coffee, tea, artisan cheeses, seasonal herbs and art. Vegenation believes in sharing positivity, providing amazing service, being kind to the earth, being trail blazers, and being creative. Head Chef and owner of Vegenation Donald Lemperle has 30 years of experience and decided to adapt a plant based life after being diagnosed with multiple myeloma ( a form of bone marrow cancer). Vegenation currently has two locations in Las Vegas, Nv one located in Henderson, Nv and the other in Downtown Las Vegas which is the one we visited.
Nestled off of Carson street, within walking distance of Container Park you can Vegenation.
Drinks
Drinks are the perfect way to wash down any meal. After looking over the drink menu I decided on the Jamaican Hibiscus Punch and my husband ordered the Chocolate Thunder Smoothie. When my Jamaican Hibiscus Punch first hit the table and I tasted it, all I could taste were the spices, it wasn't sweet at all. Once notifying our waitress she so kindly went and added some agave syrup to it and bought it back to me. After giving it a try the second time, I loved it! It was delicious. I tasted my husbands Chocolate Thunder Smoothie but wasn't a big fan of it, it tasted really healthy, but he liked it so that is all that matters.
Noteworthy
I loved the way the water was placed on the tables. While the decor was simple, it gave the perfect pop to the nature/rustic interior.
Food
Vegenation's menu is simple, and easily comprehenable so it to took us no time at all to order our food. For our appetizer we order the Loaded Sweet Potato Tots, topped with vegan cheese, jalepeno, pico, black beans, and a cream sauce those tots were so good! After tasting them I was sure that they would set the pace for the rest of our meal. For our entrees I ordered Josiah the Chicken-Less Nuggets with Sweet Potato Tots which he thoroughly enjoyed. My husband ordered The Mac Daddy Burger, topped with creamy mac n cheese, collard greens, gochujang bbq sauce, and secret burger sauce. Judging by the way he gobbled it down, I'm guessing he liked it… a lot.
I ordered the Chicky Chicky Bang Bang, which is a Nashville style hot, crispy, chicken sandwhich with slaw, racnch, buttered pickles and bread. I love spicy food, so I figured this sandwich was perfect to cure my never-ending craving. I liked the pickles and the slaw wasn't bad either. The sandwich wasn't as spicy as I thought it would be, but it wasn't bad. I didn't dislike it but I didn't quite enjoy it either. For some reason I can't quite process imitation meat, there is a part of me who just doesn't really care for it. So I passed the half of the sandwich that I didn't eat to my husband and he finished it up. I stuck to the huge potato wedges both of our sandwiches came with.
Noteworthy
This is the best and healthiest ketchup I've ever had! VegeNation handmakes their ketchup. I never knew how much I needed fresh ketchup until I had theirs.
Final Thoughts + Did it break the bank?
Overall my family enjoyed our meal at VegeNation, my favorite part hands down were the Loaded Sweet Potato Tots, my drink, and the ketchup. The service was also a highlight, everyone who worked there was extremely attentive and friendly. The restaurant was clean and beautifully decorated. In total we ended up spending about sixty dollars including our tip on our meal.
Was it worth it? That's debateable. Simply because healthy food, and vegan food for the most part is pretty expensive, I mean a pint of vegan ice cream at the grocery store is going to run you at least five bucks.
Would we go back? Possibly. I didn't dislike the restaurant, and would be open to trying new things on the menu. Vegenation does a really good job of creating their dishes and speciality menus.
As always thanks so much for reading!