Beauty Faves 2018
What an explosive year in beauty! There were so many amazing releases, companies have began to create more inclusive products, and brands have been expanding their product lines. I'm going to give you Beauty Faves of 2018.
For the face I've been using my:
Fenty Beauty Pro-filtr Primer which I absolutely love. It creates a smooth base, mattifies and blurs, but also nourishes the skin and doesn't dry me out. $32 USD

Too Faced expanded their Born This Way foundation in collaboration with YouTuber Jackie Aina to include more inclusive shades. I picked up the shade butter pecan and it proved to be my perfect shade until I went on vacation. Then the shade began to become more yellow on me. I still love the foundation and find it perfect for the winter season. $39 USD

Too Faced also released a new supersized and reformulated Born This Way Super Coverage Multi-use Sculpting Concealer. This concealer is AMAZING! Not only do you get a lot of product, but it's also full coverage and comes in many shades and undertones. I use the shade Butterscotch which gives me a subtle highlight. $29 USD
To apply foundation and concealer my go to tools have been:
The NYX Pro Multipurpose Buffing Brush it's the perfect brush for applying and blending foundation, blending contour and whatever else you need to do to the face. $17 USD

I am sure that the Beauty Blender would make the list every year. These are perfect for blending out make up seamlessly, they never let me down.
To contour and bronze my staples this year have been:
NYX Matte Bronzer has been my absolute favorite bronzer this year. I went back and forth for a while on whether or not I wanted to purchase it, because I was unsure about the color payoff until finally I went for it and placed the order. I'm glad that I did! The bronzer doesn't look like it will payoff in the pan but once applied to the face you can really see the pigment. $9 USD

The Fenty Beauty Match Stick has been my go to contour stick. I use the shade truffle, and when I use it I usually layer it under my bronzer. $25 USD
My most used pallet this year is one that I picked up in last years Winter Beauty Haul. The ItsMyRayeRaye eyeshadow pallet in collaboration with BhCosmetics has easily been my fave this year because of it's usefulness. This pallet is easy to travel with, has an assortment of eyeshadows, contour powders, and highlighters. It's literally the only pallet I took on vacation, because I knew I'd be able to get multiple looks out of it.
No look is complete with highlighter, brow control, or eyelashes:
My fave brow control gel of 2018 is the NYX Control Freak brow gel. I order this gel from Ulta Beauty on sale a while ago. I love how inexpensive it is, and how it really tames the brows. $9 USD

My go to highlighter this year has been the Jackie Aina x Artist Couture LaPeach highlighter. This highlighter is so pretty! It's the perfect topper for eye looks, inner corner, and highlighter on the face with its shimmery peachy tones.

For eyelashes I've only been using Lashes by way of Real Talk with Nikki. Surprise! More info coming in 2019!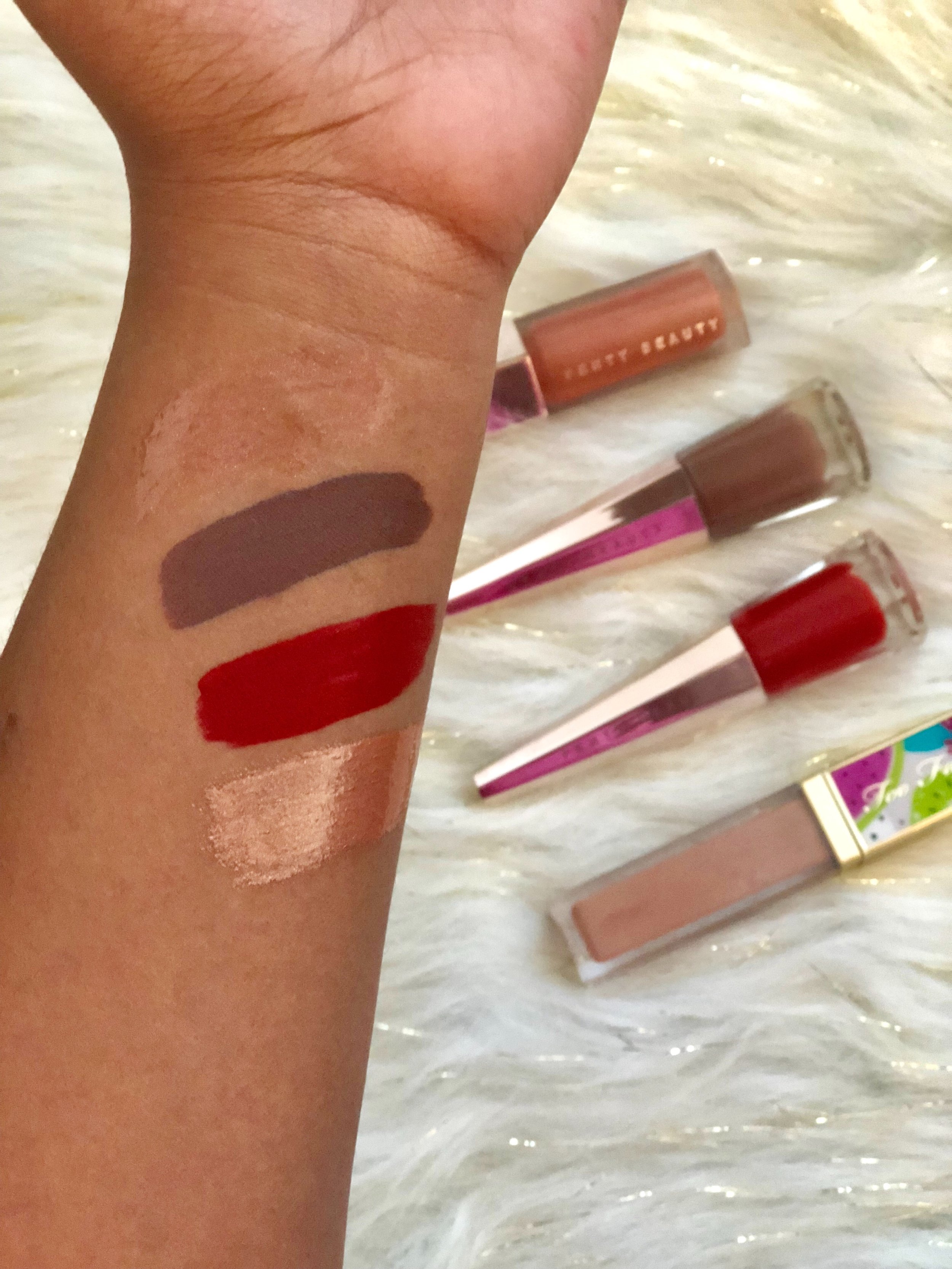 Lips! I've been finding myself going more glossy here lately but when I do dabble in color I've been preferring to go a little bolder.
My favorite gloss in 2018 is none other than the OG Fenty Beauty Gloss Bomb. The formula for this gloss is next level, and it smells amazing. $18 USD

My two favorite lippies this year also come from the Fenty Beauty family. I've been quite fond of the Stunna Lip Paint in the shade Uncensored (red) and Unveiled (chocolate). Both of these shades compliment me and although they are matte they don't dry my lips out and are extremely comfortable to wear. $24 USD

The Too Faced Tutti Frutti- Juicy Fruits Comfort Lip Glaze has recently become a favorite of mine. This lip glaze makes the perfect lip topper, giving the lips an out of this world shine. It also smells amazing! I've been using the shade Show Me Your Coconuts. $20 USD

This has been an amazing year in Beauty! I'm looking forward to what 2019 has in store. Make sure you subscribe!